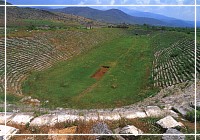 An unplanned visit to the ancient site of Aphrodisias turned out to be a highlight of our tour around Turkey. It isn't a well-publicised place; indeed, many Turks don't know of its existence. When I returned to school in Istanbul after our trip and told my students about it, none of them had even heard of it, let alone visited. And yet, for me, it is much more impressive than the better-known sites of Ephesus, Pergamon and Troy.
Aphrodisias is located to the west of the city of Denizli. If you're staying in Pamukkale, then there is a daily minibus service which will take you there, give you 3 hours to explore the site, and then return you to your hotel. The journey takes about 2 hours each way and the fare is 30TL per person. We knew very little about the site before our visit and were undecided whether or not to go, considering that it would occupy a whole day, but, fortunately for us, the owner of our hotel recommended it, so we decided to go. What a revelation!
In Roman times, Aphrodisias was one of the main centres for the worship of Aphrodite, the goddess of love and fertility, to whom the city was dedicated. The town also became the seat of one of the greatest schools of sculpting during the classical era, making use of marble quarried from the slopes of Babadag, just 2km from Aphrodisias. Recent excavations have revealed sculpting workshops, and sculptured figures found here have each single hair separately worked, the faces and eyes are full of expression and vitality, and the bodies appear supple and almost capable of movement. The work produced here was of extremely high quality and, indeed, many of the reliefs and statues found in Rome and Athens bear the signatures of artists from Aphrodisias.
What the visitor sees when he visits Aphrodisias today is the result of many years of hard work which still continues. The site was first discovered by Frenchman, Paul Gaudin, in 1905, but excavations didn't begin in earnest until the 1950s. Because of this, lessons were learnt from earlier digs, and all of the finds were kept on site rather than being shipped off to far flung corners of the world. Some of these are now housed in a purpose-built museum, so the whole story is there for you to see. Most of the major excavations were led by a Turkish professor from New York University, Kenan Tevfik Erim. He first worked at Aphrodisias in 1961 and continued until his death in 1990. Fittingly, he is buried on site, and there is a bust of him in the entrance to the museum. As I said, the work goes on and new evidence of this magnificent city is constantly being revealed.
The highlights that you can see today include a wonderfully preserved theatre with seating for 7000 people and a council chamber with blue marble seating for 350. There is also the temple of Aphrodite with its fantastic spiral-fluted columns and mosaic floor. The agora, measuring 205 by 120 metres, is also noteworthy, as are the baths of Hadrian. As if all of this is not enough, you must not miss the stadium. We almost did! As we were walking around the site, we noticed a knee-high sign indicating 'stadium'. We looked in the direction it was pointing, but couldn't see anything. It was a very hot day, so we were tempted to ignore the sign, but something made us go. I'm so pleased we did! We walke
d 500 metres or so along a rough track through scrubland. Ahead of us was a very high, long, grassy bank. As we got closer, we saw a break in the bank. We walked through this gap and were completely blown away by what we saw. It is a perfectly preserved sports stadium with seating for more than 30,000 people, and we were the only visitors! It is colossal - more than 262 metres long. We read later that in its heyday it staged athletics competitions to rival the Olympic Games, and that today it is the biggest and most complete stadium of its kind anywhere in the world. And to think that we almost didn't see it!
In Roman times, Aphrodisias was home to 15,000 people. None of the ordinary houses have yet been excavated, so there is still an awful lot of work to be done. Hopefully, we will make a return visit one day to see how they are getting on!